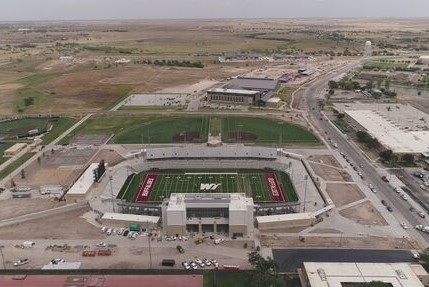 Buffalo Stadium on the campus of West Texas A&M University
Sir William Herschel wrote in 1802, "If, on the contrary, two stars should really be situated very near each other, and at the same time so far insulated as not to be materially affected by the attractions of neighboring stars, they will then compose a separate system, and remain united by the bond of their own mutual gravitation towards each other."
Amarillo and Canyon are so intertwined as to be considered one. Former Mayor Paul Harpole said of the two communities at a meeting considering the transfer of Kimbrough Memorial Stadium to Canyon Independent School District, "We are joined at the hip." Mayor Harpole was correct, and Sir William Herschel would agree.
The opening of Hodgetown on April 8, 2019, indelibly marked the life of an already great city and the dozens of communities that make up the Texas Panhandle. Likewise, just five months later, on September 7, 2019, WT's Buffaloes will face the Azusa Pacific Cougars in the new Buffalo Stadium, playing football on campus for the first time in six decades. The I-27 corridor with Amarillo and the Sod Poodles on one end and Canyon and the WT Buffalos on the other represents a nearly $100 million investment that strengthens economic prosperity for the entire region. This pair of bookends help define these communities.
Both sports facilities are state-of-the-art and provide family-friendly environments attractive to people near and far. Buffalo Stadium features a blisteringly fast Wi-Fi location, one of the most powerful in the country. Nine thousand fans can simultaneously stream Netflix movies and get instant game replays on handheld devices. The Wi-Fi 6 Extreme Networks technology available in Buffalo Stadium is equaled by only a few NFL stadiums. Its Shakespearian "though she be but little she is fierce" 9,000 seats will be technologically "as hot as all get-out." By comparison to much larger NCAA Division 1 facilities, Buffalo Stadium has modest seating capacity. However, technology and accommodations are in direct response to the students who voted approval to increase athletics fees for themselves to build a stadium that is second to none.
Investment from inside and outside the community will grow. For WT and Canyon, Russell Long Boulevard is being transformed into a campus-community thoroughfare with engaging pedestrian and bicycle links. The beauty of our campus and the quintessential small-town appeal of Canyon will create benefits rippling out to every corner of the Panhandle. The University's generational plan, WT 125: From the Panhandle to the World, is founded on this commitment.
On September 15, 2017, I shared this observation: "The I-27 corridor between Amarillo and Canyon makes up the heart of the Panhandle. No matter how related the rural Panhandle communities are, they cannot productively exist without the link back to the duet of Amarillo and Canyon. …This is the nature of a thriving region of small communities. It must have a heart. Likewise, Amarillo and Canyon are analogous to a binary star, bright in the Panhandle for their coupled size and energy."
 Hodgetown required a multitude of commitments from the people of Amarillo to support the design and construction of a first-rate ballpark. Likewise, Canyon and WT have joined forces and invested hope in a strong partnership. In concert, these opportunities for community engagement strengthen every business, every place of industry and every educational institution, serving students of every age and disposition, while sowing community hope and faith in the future. Benefits are harvested at both ends of the I-27 corridor and will amplify the loudly beating heart of the Panhandle for coming generations.
As Hodgetown is the fruit of seed planted in downtown Amarillo, so too Buffalo Stadium will take root at the other end of the corridor on the beautiful campus of West Texas A&M University, a proud member of both The Texas A&M University System and the thriving community of Canyon.
Nothing new here. The book of Ecclesiastes suggests, "Two are better than one, because they have a good return for their labor," and concludes that thought with this simple but powerful realization: "A cord of three strands is not easily broken."
Two cities, one university, three strands.
Walter V. Wendler is President of West Texas A&M University. His weekly columns are available at http://walterwendler.com/.