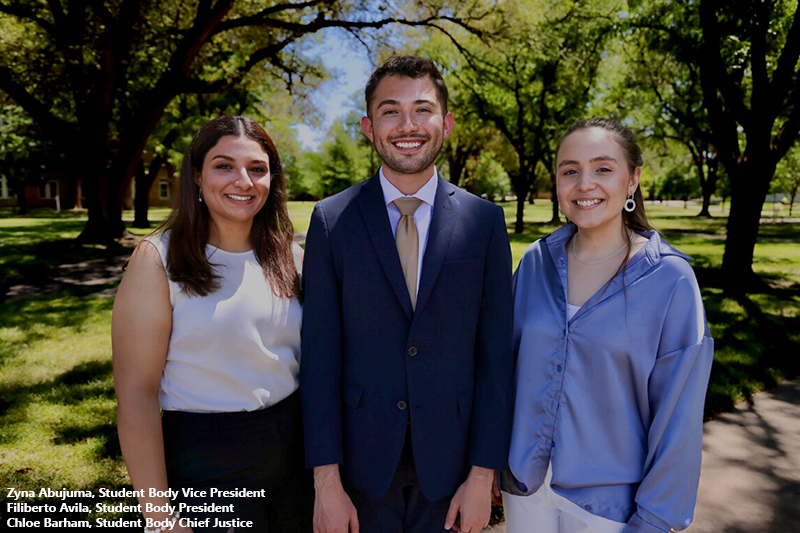 Being involved and engaged helps create a sense of belonging and effectiveness. Students involved in student government learn effective skills that contribute to future success. We believe effectiveness is not just representing student views but understanding how a large organization, serving many audiences, operates and allows the students to be part of a learning laboratory. The job of any group of university leaders is to listen and hear the concerns and insights of students, and traditionally, it has been through student government.
At West Texas A&M University, we, the University President and Student Body President, meet together each month and at other times as needed. We are co-workers. In addition, student affairs professionals confer regularly with student government leaders. While such meetings and sharing ideas may not solve every problem, the opportunity to engage in decision-making is vital to progress in any organization with a complex set of constituencies to serve.
We believe student engagement is important, and the value of that engagement to understand how processes work and sometimes don't is a valuable lifelong learning experience. It is a service that should not be left sitting on the table. WT's student government is an important aspect of student life. It may be the most prominent of all opportunities for students to engage in helping create a positive impact on the university. W.H. Butch Oxendine Jr., the executive director of the American Student Government Association, laments the lack of engagement at some institutions: "Student governments often struggle getting people to participate, to run for office." At WT, we face some challenges, too, and we believe if students were more aware of the impact of student government participation, it might increase. Participants in this republican form of government can better understand the challenges of engaged citizenship in a free society. Balancing personal views, aspirations, corporate mission and vision helps create paths of progress to the future.
Student involvement serves as a robust form of experiential learning. It offers a hands-on approach where students can directly apply the theoretical concepts acquired in classrooms to real-world scenarios. This practical experience equips them with essential skills like problem-solving, critical thinking and effective communication, which are highly sought after by employers. By navigating the complexities of leadership within student government, individuals gain a deeper understanding of organizational dynamics, fostering teamwork and adapting to diverse challenges. This experiential learning enriches their college experience and positions them for success in their future careers, where these skills are indispensable.
Accompanying these formal opportunities to engage student leadership through government is valuable know-how in the community. Several programs exist at WT to foster and inform student leadership. Every college on campus has student committees or representation on various standing committees, organizations and opportunities to instill leadership principles. In addition, campus-wide programs, such as Roger's LEAD WT,  help stimulate leadership skills by focusing on experiences grouped into Leadership Pillars.
A few examples of pillars: Exemplary Character – defining and maintaining morals and values to further self-awareness and character development; A Sense of Responsibility – Ownership of one's actions and commitment to academics, self and others; Collaborative Relationships – Organizational development through a shared vision to create a community that invests in and celebrates others; Cultural Humility – Valuing the diverse perspectives of others through social awareness and inclusive actions; and a Heart of Service – Actively seeking new opportunities to serve and better the community and others. These are a few precepts that enliven student leadership and success in and after college.
Student involvement in university affairs generates a dynamic feedback loop with the administration, igniting a cycle of continuous advancement across campus. Students emerge as change accelerators by assuming active roles in student government and leadership capacities. Students' contribution of insights pertaining to academics, facilities and services mirrors the ever-evolving preferences of the student body. Students wield considerable influence in policy refinement, facility optimization and service evolution through this mutual partnership. Additionally, student leaders and faculty collaboration forge a vital connection between academia and extracurricular undertakings. This synergy amplifies both classroom education and practical experiences.
Through involvement in student government and leadership activities, students amplify their own voices and champion the voices of others who might otherwise go unheard. By sharing their experiences, traditions and insights, students enrich the fabric of the university, paving the way for a more holistic education that prepares graduates to navigate an interconnected world with empathy and respect.
Filiberto Avila, Student Body President, West Texas A&M University
Walter V. Wendler, President of West Texas A&M University. His weekly columns, with hyperlinks, are available at https://walterwendler.com/.