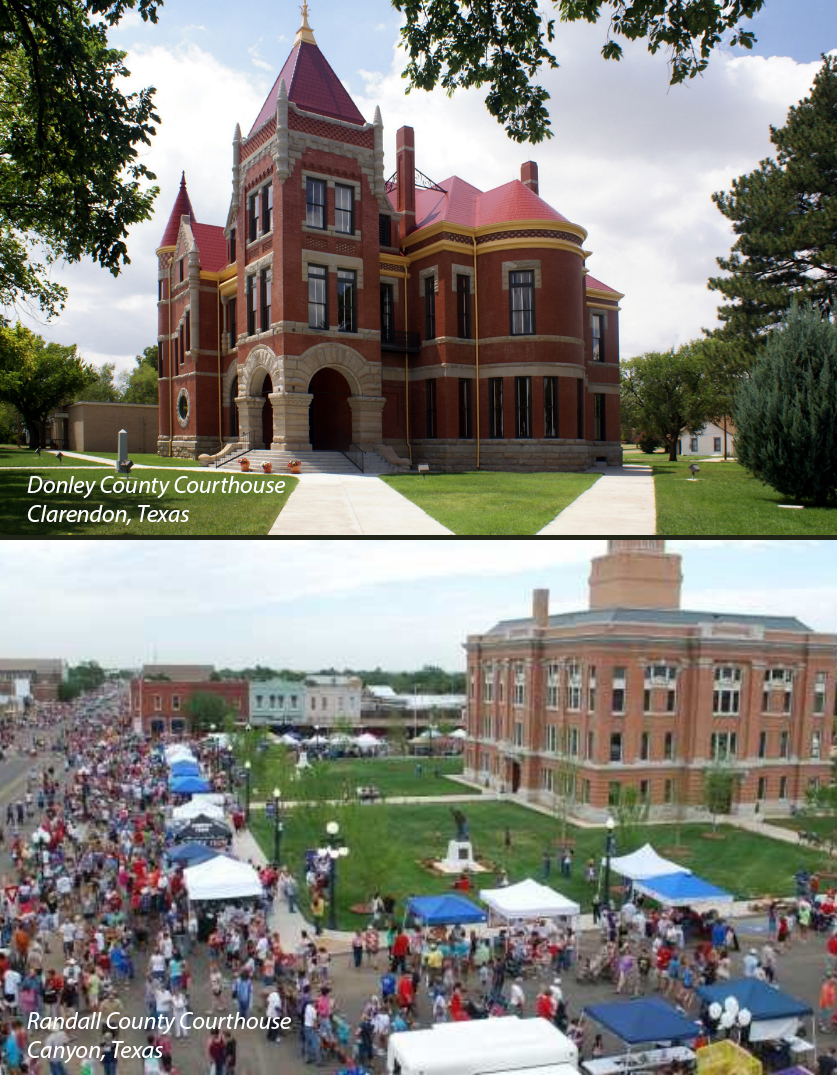 Fourth in a series on the Heart and Soul of the Texas Panhandle
When people think about public space in and around cities and towns, notable parks in metropolises come to mind. Some examples include Griffith Park in Los Angeles, City Park in New Orleans, Zilker Metropolitan Park in Austin, and my favorite, the mother of all for the granite from which it is carved, Central Park in New York. Indeed, these are great places of public sanctuary in teeming seas of humanity that know little rest.
Public spaces in less densely populated areas, such as our treasured Texas Panhandle, are meaningful for people that live and work here. Most often located on a block of land near the center of a community, county courthouses are important quarters of action and rest, simultaneously.
Randall County Courthouse in Canyon, Texas, WT's home, was built in 1908 is one such edifice. It is a classic courthouse that orients itself to the center of the town square around which small businesses offer products and services. It is public common ground instilling community. Currently unoccupied, but carefully restored, ready for its next high calling.
Carson County Courthouse is the hub of Carson County in Panhandle, Texas, representative of many Panhandle courthouses. Striking to me is a 1778 James Madison quote, chiseled into stone on the courthouse grounds. It memorializes a concept regarding the nature of what is simultaneously public and private in our lives. It reads, "We have stacked the whole future of American civilization, not upon the power of government. Far from it. We have stacked the future of all our political institutions upon the capacity of mankind for self-government. Upon the capacity of each and all of us to govern ourselves. To control ourselves. To sustain ourselves according to the 10 Commandments of God." Such thinking, posted on an island of public space in an ocean of private land crystallizes Carson County: a dot of "super glue" that binds families, communities, municipalities and private compositions of human energy into something bigger, something public.
Quite possibly the most dramatic courthouse in the Texas Panhandle, Donley County Courthouse in Clarendon, is the oldest in the Panhandle, first occupied in 1891. The importance of this rare piece of public architecture was expressed by the spare-no-expense restoration and eventual rededication on July 4, 2003.
In contrast to parks and buildings, civic demarcations of land are strands of steel controlling cattle's movement in the wide-open spaces strung on fence posts, dug and hammered into relentlessly challenging soil, packed hard by the arid atmosphere and ceaseless wind. The barbed wire helps determine what belongs to whom and how important it is to separate plots of private land from private land; and private land from public land.
Michael Grauer, previously associate director for curatorial affairs of the Panhandle-Plains Historical Museum, noted the purpose of this razor-thin, yet imperative wire-wrought inscription on the ground, "Those who were settling in the Panhandle needed a way to make their presence felt." Grauer continued, "Barbed wire stringing was about establishing ownership and therefore control of the land." Not the public/private granite canyons of New York that flow into Central Park. Rather, the grazing and pastureland around Palo Duro Canyon State Park, a public space like no other. Some would say scratched by the finger of God Himself, rather than crafted by the hands of millions that created the free world's financial capital. Our public space is the centerpiece of multiplied millions of acres of grazing and pasture land and public rights-of-way, in a symphony of public and private space (nearly 16 million acres—one-tenth of all of Texas) separated by faint wire-drawn lines. But, powerful, they will rip your pants and tear the skin of your thigh if not respected for their authority to determine what's yours, what's mine and what's ours—public and private space
Delbert Trew's perspective of barbed-wire is memorialized in the Devil's Rope Museum. Not Central Park, but a 0.092-inch diameter thread, marking public and private land for human and beast alike. In a 1984 exposé on barbed wire, Texas Monthly summarized its impact, "Barbed wire remade Texas. Once an empire of grass and cattle, Texas slowly became a patchwork of ranches and farms, stitched together by miles and miles of wicked-looking wire." Devil's rope.
Parks, open and public; courthouses, magnificent, indelibly marking public space; and stretched strands of steel creating boundaries, all work together delineating public and private in a symphony of ownership defining the heart and soul of the Texas Panhandle.
WT benefits as those who work and study here appreciate the essential dualism of public and private.
Walter V. Wendler is President of West Texas A&M University. His reflections are available at http://walterwendler.com/.