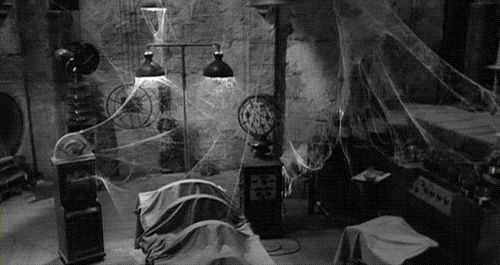 pinterest.com cdfd802216040079fc70c1e3cb899f3a–young-frankenstein-mad-scientists
Every high school and college student, every working professional engaged in continuing education and every educational leader and faculty member will address this question every day: "What is the correct mix of face-to-face and online instruction?"
According to the U.S. Department of Education, of the 20.25 million students enrolled in universities nearly 3 million enrolled only in online courses. Nearly 400,000 studied exclusively through online institutions. Over 2.5 million students subscribed to distance education courses at traditional universities. Overall, two of three college students are currently studying in a hybrid environment with some courses on-campus and some courses online or a blended delivery of both types of courses. The trend is apparent. Institutions offering both online and on-campus instruction more effectively meet student needs.
In the next decade, graduates of universities who need continuing education courses for maintenance of professional licensure will increasingly gain experiences in an online environment. Beyond licensure, being "current" often requires a steady stream of knowledge and insight.  Universities should encourage hybridization of study if only to prepare students for lifelong learning.
Teaching and learning in a digital environment differs from face-to-face settings. Online learning is similar to a wind tunnel; it allows controlled experimentation in a special setting to produce new ideas at a lower cost. Thoughtful faculty and leaders recognize the value of good teaching in both settings.  The foundation for excellence in teaching – passion for students – does not change. A number of online programs at West Texas A&M University consistently gain recognition for teaching excellence and quality. Commitment by all and insistence on equivalent qualifications for faculty members teaching the same degree programs online and on-campus is the coin of the realm. Effective teaching in any setting is independent of delivery mode, founded on ability, knowledge and passion.
The number of students enrolled exclusively at online institutions is decreasing while the number enrolled in online courses at state supported institutions is growing. Some private institutions with large online enrollments are seeing enrollment loss. The causes of enrollment fluctuation are difficult to articulate, but Adam Smith's free market economy is at work in domains of educational delivery just as surely as it is anywhere.  Furthermore and simply stated, student perception of real quality is the most important measuring stick that determines growth or decline. Students do not vote only with footprints, but with keyboard clicks. Quality affirms market eventually, albeit at different rates of speed.
The costs for online and on-campus instruction vary by institution and major.  Arizona State University has significant enrollments in both venues and charges different rates for each. Others, such as Auburn and West Texas A&M University, charge equivalent rates. Institutions and costs for various degree programs must be closely compared—side-by-side, service-to-service, benefit-to-benefit, apples-to-apples. Buyer beware.
Academic leaders overwhelmingly report the importance of online learning to their institutions, according to a Babson Research Group study. As student demographics change with nontraditional students who work, raise families, study and actively engage educational opportunity the force of hybrid programs will increase.
Some claim digitally supported learning is creeping down into elementary schools, but more likely, it is creeping up from elementary schools into universities. Nancy Blair expresses this clearly in a National Association of Elementary School Principals article. Kindergartners use iPads and other digital technology without differentiating its impact from a face-to-face encounter. Nearly impossible for me. Technology fascinates, even mesmerizes me, but not kids.  Cybernetic conjuring charms neither the coming or current college cohort.  The best students engage the knowledge and insight they glean through their courses in spite of the delivery mode, not because of it.
Digitally delivered instruction does not relieve faculty from excellent teaching or students from fully engaged learning. Students needing support in traditional settings will likewise need support in digitally delivered instruction. Focus, determination, goal setting and commitment to excellence are all part of the teaching/learning environment no matter the delivery method. Hybridization can lead to learning responsiveness focusing on learning needs for both faculty and students:  processes do not absolve anyone from anything.
A recent Deloitte study summarizes the challenges of online versus on-campus learning. It suggests continuous study is essential for ongoing access to insights and ideas because of the dramatically changing nature of careers. Hybrid delivery provides real learning experience in different settings and areas of study for different people. Deloitte suggests the average career length is 65 years, the average job tenure is 4.5 years and the half-life of a learned skill is 5 years. This reinforces the importance of educated people sustaining the ability to "learn to learn." Traditionally, this meant having aspirations and being inquisitive, curious and self-aware. The question of face-to-face or digital is trivial. A good education creates hunger and a means of satisfying it.
Online or on-campus?  Sorry.  Wrong question.