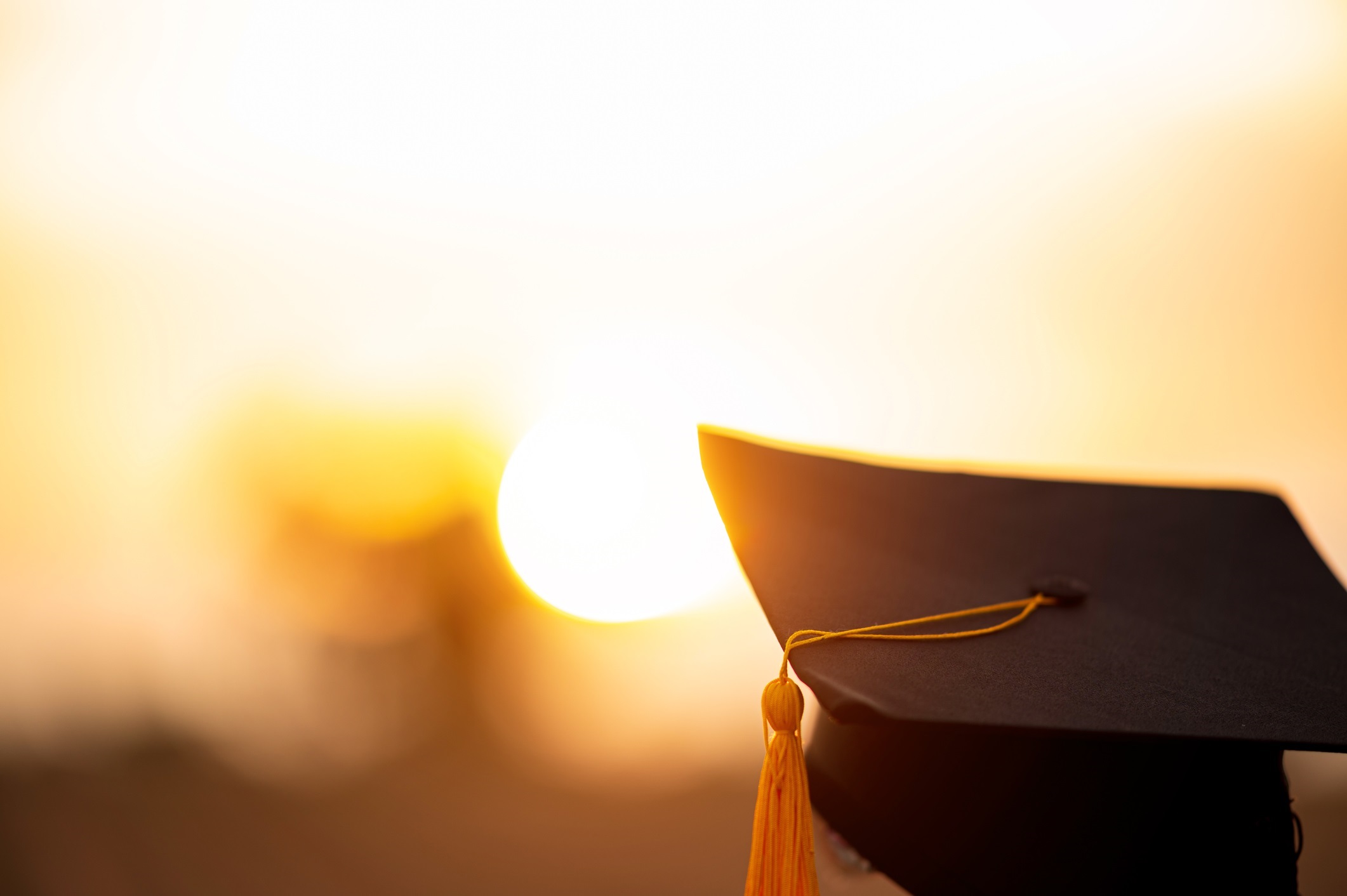 West Texas A&M University will host a virtual graduation in December — a decision reached only after much discussion and heartfelt deliberations. Details regarding the event will be released soon.
I know that many faculty, staff, students and families will be disappointed — and I, too, share your disappointment. But I also know the decision is based on my best professional judgement given the facts at this time.
Here are the facts:
As of Nov. 10, there are 963,019 confirmed cases of COVID-19 and nearly 19,000 fatalities statewide, according to the Texas Department of State Health Services.
In WTAMU's home region — Canyon and Amarillo, in Randall and Potter counties — the total confirmed cases of both counties were 17,391, as of Nov. 10. According to the Amarillo Public Health Department, 196 people have died due to COVID-19.
On Nov. 10, the Amarillo area hospitalization rate was 30.95%, according to the City of Amarillo. COVID-19 beds in hospitals are near or over 50% of those hospitalized; that is at least two times the levels recommended by the state. For me, it is legitimately labeled a crisis.
At WTAMU, 110 confirmed cases were recorded between Nov. 2 and 8, the bulk of them students. Long-term, there have been 533 total confirmed cases among WT students and employees since March 1. Since July 24, WT has administered approximately 3,400 COVID-19 tests with a positivity rate of 9.21%. The University — through the diligence of faculty, students and staff — is performing reasonably well in confining the spread of the virus.
Data below depict trends regarding the community, WT, and COVID-19. This information generates clear-headed concern about the types of events we should host on campus and how we can be good neighbors to the Texas Panhandle communities, our neighbors that support our efforts.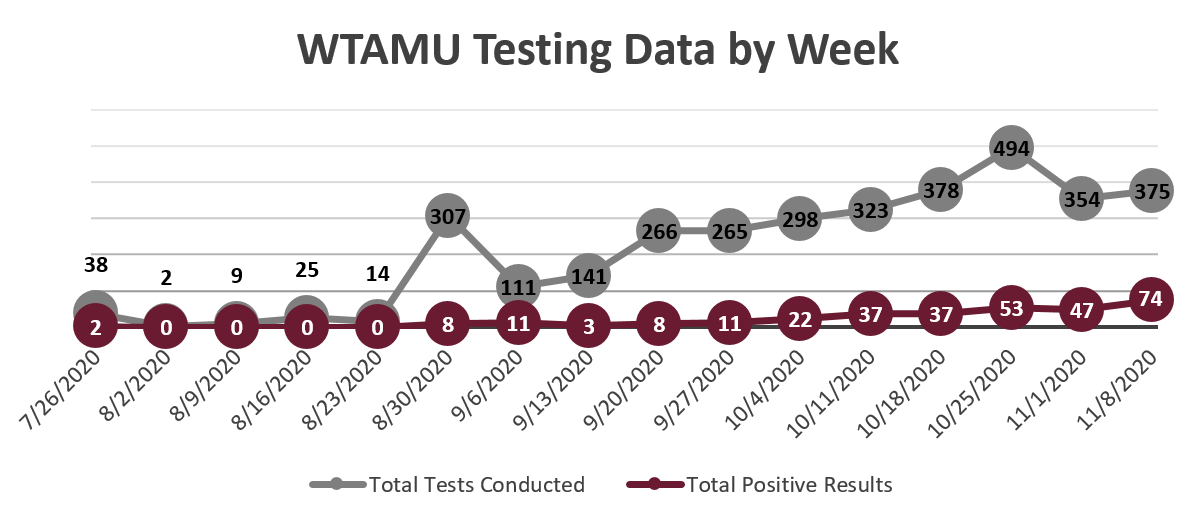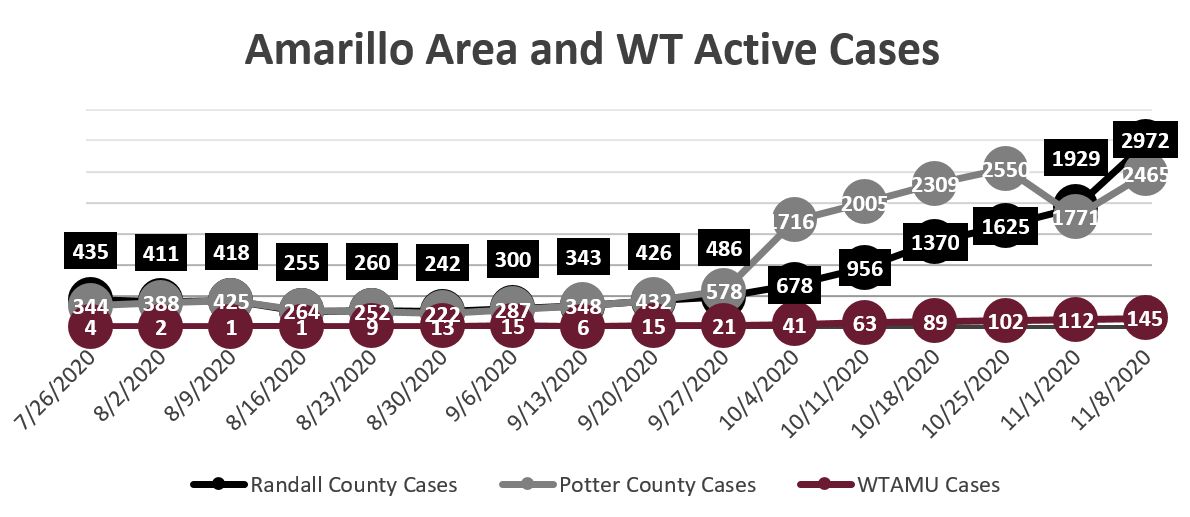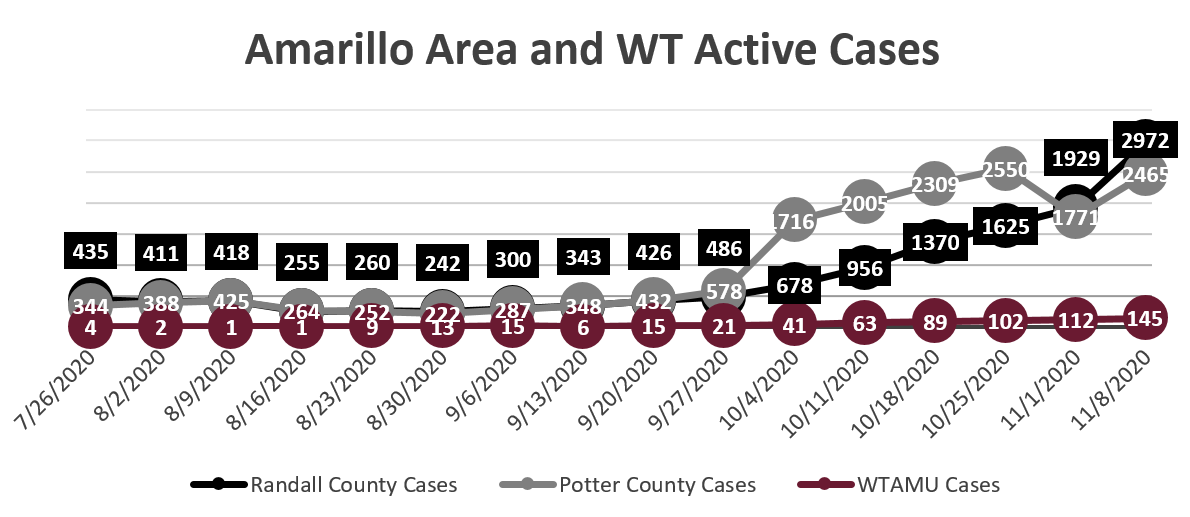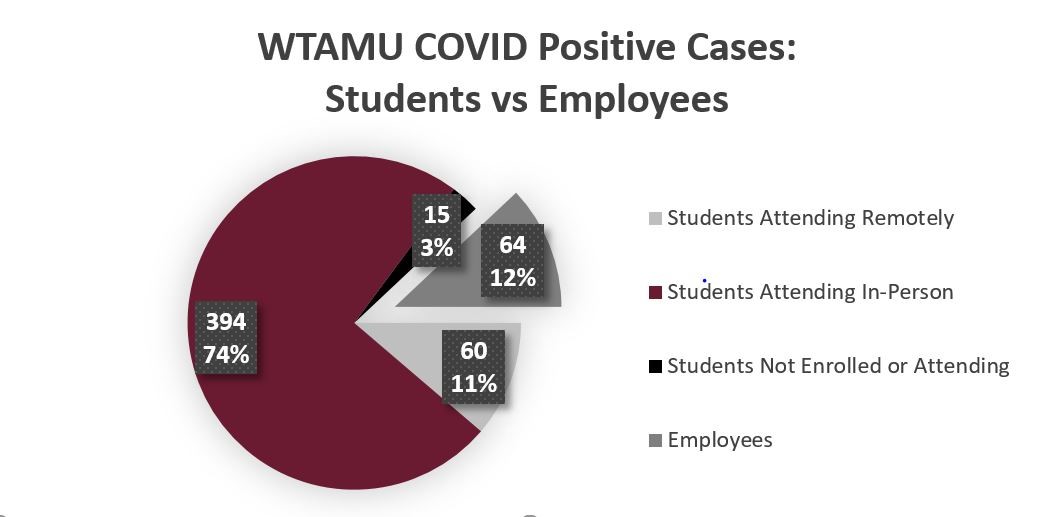 Graduation – An Important and Unique Event
College and university graduations have been celebrated for 800 years. These are personal events, special occasions for students, family members and associates to recognize each other. They are, without a doubt, important milestones.
But WT is located in one of our nation's most COVID-19 strained regions, third only in the state to El Paso and Lubbock. The delicate balance of the desires of our students and their families and friends, the health circumstances of the Panhandle, and our region's ability to deal with a surge of COVID-19 cases merits careful consideration — all balanced on the razor's edge of safety.
Graduation in These Times – Three Possibilities
When determining our best course of action for December's commencement ceremonies, we considered three options: Multiple indoor ceremonies, an outdoor ceremony and a virtual graduation.
An indoor graduation of smaller groups within our largest venue, the First United Bank Center, would require significant faculty and staff engagement to direct the event over two days. While the safety of all is our primary concern, the faculty and staff who lead the event would be exposed repeatedly to potentially contagious students and guests. This concerns me.
An outdoor graduation at Buffalo Stadium similarly concerns me. Students, faculty and staff would all be masked and socially distanced, but safety protocol breakdowns could still occur in too great of numbers.
A virtual graduation similar to May 2020.
Intercollegiate Athletics
Intercollegiate athletics and the competitions that we host on campus are different from graduation ceremonies. First, athletic events follow strict safety protocols, including testing up to three times a week for all participants, staff, coaches and officials. Other safety protocols are strictly enforced, as well. No such protocols are in place for graduation participants; we cannot test all graduates three times a week.
If enough students test positive, competitions are canceled. The nimbleness and control offered in intercollegiate athletics are not available in graduation ceremonies: People plan trips, make hotel reservations, and decide whether and where they may go out to eat. Grandmothers commit to coming to graduation to see a grandchild, maybe the first in their family, graduate from college. Moms and dads likewise make heartfelt decisions to attend graduation ceremonies.
That leaves what we believe is our best option, a virtual graduation, as utilized in May. That ceremony produced a durable record of graduation with speeches from University leadership, local elected officials, The Texas A&M University System leadership, and state and local officials. In addition, testimonial videos produced by the students themselves were available to all and are memorialized on our website. The event was like no other in the history of WT. It was guided by legitimate concerns about the spread of COVID-19, and the health of students and community alike.
Community Responsibility and the Golden Rule 
I have spoken with A&M System leaders, county commissioners, mayors, hospital administrators, the Amarillo Area Public Health Board, and other professionals in service to the community. To a person, each believes that indoor or outdoor graduation ceremonies present significant risks. The risk is elevated given that a graduation ceremony would be occurring shortly after Thanksgiving. As we have seen, holiday breaks promote gatherings which have led to an increase in spread and outbreaks.
The remarkable strengths of the relationships that exist in the Texas Panhandle related to WT are as strong as they are precisely because we exhibit care and concern for all in decisions that impact all. I value the strength of that relationship. It is what makes WT distinctive and, if adequately nurtured, will continue to build our strength. It is being a good neighbor.
As such, we will treat others as we would wish to be treated. Given the rapid increase of COVID-19 cases in our region and the strain it is causing our hospitals, we have a civic and moral responsibility to consider how our actions impact these communities' well-being.
Regrettably, an in-person traditional graduation ceremony is not feasible at this time.
Walter V. Wendler is President of West Texas A&M University. His weekly columns are available at http://walterwendler.com/